What's driving the increase in Bitcoin's price today?
The price of Bitcoin (BTC $30,894) has surged today, reaching an intraday peak above $30,200, marking a two-month high. This increase follows the United States Securities and Exchange Commission's announcement to dismiss all charges against Ripple's leadership, including CEO Brad Garlinghouse. The crypto community has joyfully embraced Ripple's victory.
While it may be challenging for the Bitcoin price to maintain the $30,000 level, there's a certain level of bullish momentum likely influenced by institutional investors' recent adjustments to various spot Bitcoin exchange-traded fund (ETF) applications and the optimism of retail investors regarding the upcoming Bitcoin supply halving.
Growing Institutional Interest Boosts Bitcoin Market Sentiment
Despite significant macroeconomic challenges, the surge in spot Bitcoin ETF amendments in mid-October propelled BTC's price above $30,000 for the first time in two months, lifting market sentiment.
After a favorable ruling from U.S. Court of Appeals Circuit Judge Neomi Rao in Grayscale Investments' case against the SEC concerning the Grayscale Bitcoin Trust, many major institutions began applying for ETFs. On October 14, Grayscale received another victory as the SEC decided not to appeal the decision. This move potentially encouraged Grayscale to file for a new spot Bitcoin ETF on October 19.
So far, the SEC has rejected multiple spot Bitcoin ETF applications, even from notable entities like BlackRock, Fidelity, ARK Invest, and 21Shares, which has applied for approval three times.
The Bitcoin halving narrative resurfaces, with the next halving expected in April 2024. Analysts are still debating whether this event will have a bullish impact on BTC's price this time. Capriole Investments notes that historically, Bitcoin's best returns have occurred in the 12-18 months following each halving, with even greater 12-month performance if investing in the 4-6 months leading up to the halving.
Reports suggest that approval of a Bitcoin ETF could address liquidity issues, potentially generating $600 billion in new demand. A recent report from Capriole Investments also draws parallels to gold's 350% return after the approval of a gold ETF, indicating the potential impact of an approved Bitcoin ETF.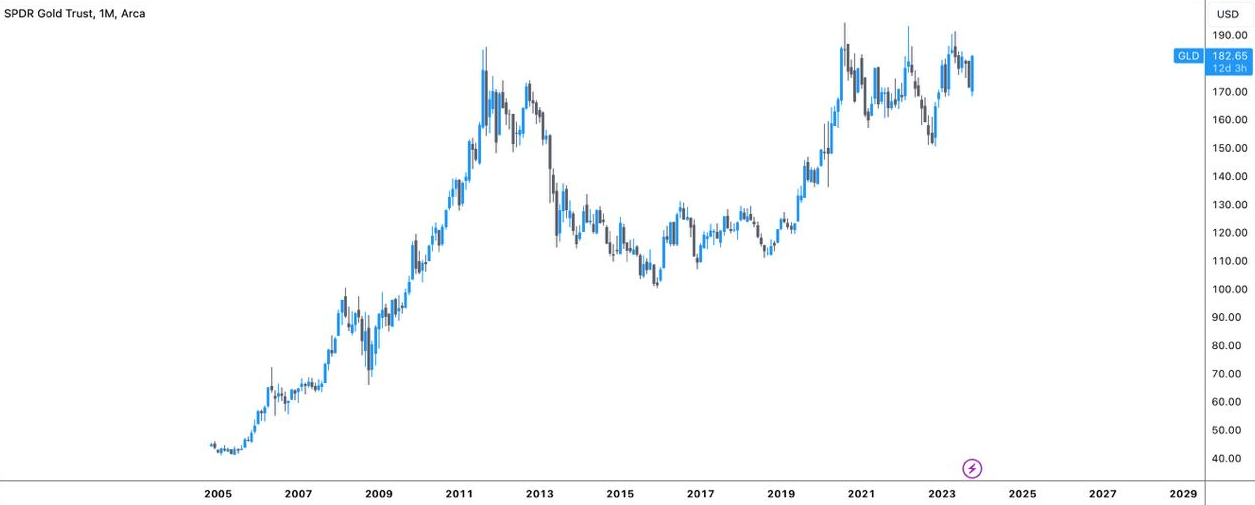 Cryptounit believes ETF approval will lead to a $1 trillion increase in market capitalization.
Bitcoin Supply on Exchanges Declines Amid Price Rise
As Bitcoin's price climbs, the amount of BTC available on exchanges remains lower than the monthly peak reached on September 4. Over 70,000 BTC have been removed from exchanges since that two-month high.
The market perceives coins leaving crypto exchanges as a bullish signal, given that traders typically withdraw their BTC when they want to hold it in self-custody long-term. On Oct. 19, long-term Bitcoin holders hit 76% of all BTC ownership for the first time in history.
Bitcoin's price surge today, why?
Bitcoin, the world's most renowned cryptocurrency, has been making headlines recently with a significant surge in its price. In this article, we will delve into the reasons behind this sudden and notable increase in Bitcoin's value. As we explore various factors, it becomes evident that a combination of events and market dynamics is contributing to this surge.
Regulatory Developments
One of the key drivers behind Bitcoin's recent price surge is regulatory developments. On this front, the United States Securities and Exchange Commission (SEC) made a major announcement that has reverberated throughout the crypto space. The SEC revealed that it would be dropping all charges against Ripple's leadership, including CEO Brad Garlinghouse. This announcement was met with great enthusiasm in the cryptocurrency community. It indicates a more positive regulatory environment for cryptocurrencies, including Bitcoin, and this boost in sentiment has played a significant role in the recent price surge.
Institutional Interest
Institutional investors are increasingly recognizing the potential of cryptocurrencies as an asset class. This surge in institutional interest can be attributed to several factors. Notably, various spot Bitcoin exchange-traded fund (ETF) applications have been amended, a move that signals institutions' growing appetite for exposure to Bitcoin. While these applications have not yet received approval from regulatory bodies, the mere fact that major financial institutions like BlackRock, Fidelity, ARK Invest, and 21Shares have applied for them multiple times is a clear indicator of their confidence in the cryptocurrency market.
In addition to ETF applications, large institutional investors are exploring ways to incorporate Bitcoin into their portfolios. This includes strategies like adding Bitcoin to their treasury reserves, a trend initiated by companies like Tesla and MicroStrategy. The entry of these prominent players into the Bitcoin market has bolstered its legitimacy and, in turn, driven its price upward.
Retail Investors' Optimism
Retail investors also play a pivotal role in the dynamics of the Bitcoin market. The anticipation of the next Bitcoin supply halving is fueling optimism among retail investors. The next halving event is projected to occur in April 2024. Historically, each halving has been followed by a surge in Bitcoin's price. According to historical data, most of Bitcoin's returns materialized in the 12 to 18 months following each halving. This has generated enthusiasm among retail investors who believe that the upcoming halving will once again lead to bullish outcomes for Bitcoin.
Market Sentiment
Market sentiment is a crucial factor in driving Bitcoin's price. The perception of Bitcoin as a store of value and a hedge against inflation has grown in recent times. In a world marked by economic uncertainties, the appeal of a decentralized digital asset like Bitcoin is undeniable. When positive news and developments, such as regulatory clarity and institutional investments, emerge, it bolsters confidence in Bitcoin's long-term potential.
Conclusion
Bitcoin's price surge today is a result of several converging factors. Regulatory developments have offered a more favorable environment for cryptocurrencies, institutional investors have expressed growing interest and made significant moves into the market, retail investors are excited about the upcoming halving, and overall market sentiment remains positive. As the cryptocurrency landscape continues to evolve and mature, it is likely that Bitcoin's price will remain subject to a complex interplay of factors, making it essential for both seasoned investors and newcomers to stay informed and adapt to this ever-changing market. The future of Bitcoin remains uncertain, but its role in the global financial landscape is undoubtedly becoming more significant with each passing day.