A key Bitcoin indicator has flashed green substantially for the first time in more than two years signalling some level of buyer intent going forwards. The move follows a string of other indicators that have turned green in the buildup and aftermath of the Bitcoin halving that took place back on May 12, 2020.
According to cryptoanalytics firm Glassnode, a self-styled indicator called Puell Multiple has flashed green again after a few weeks but this time convincingly. The Puell Multiple indicator is defined as the number resulting from " dividing the daily issuance value of bitcoins (in USD) by the 365-day moving average of daily issuance value." In other words, it gives a long-term outlook of Bitcoin according to the latest valuation of daily supply. Since Bitcoin halving has taken place and the value of Bitcoin has largely been stable after that, the Puell Multiple has once again taken the opportunity to flash green.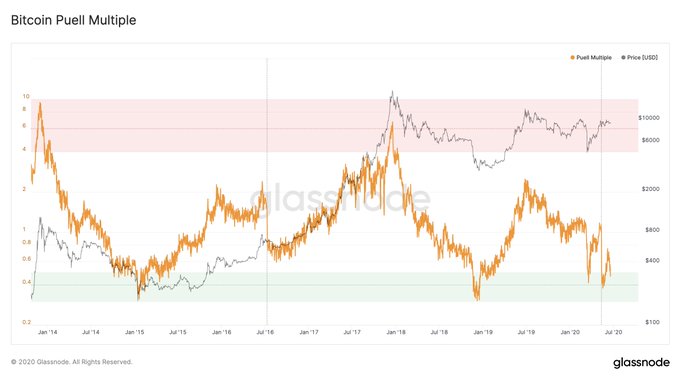 Image source: Glassnode
Historical Significance
Historically, the indicator has flashed green several times before. In 2015, the indicator flashed green and after that, Bitcoin's value rose by more than several thousand percent in its aftermath but it did take more than two years for that to happen. At the end of 2018 when Bitcoin tanked to $3,000, the indicator flashed green and as a result, the cryptocurrency recovered some of its losses and has now shown positive intent once again.
Other well-known indicators turning green
Puell Multiple is a much lesser known indicator and is not followed a lot within the crypto community. However, other stronger indicators have turned green during recent months to lay groundwork for a possible future bull run of the cryptocurrency. The number of Bitcoin whales is also approaching an all-time highest level since 2017 when the last big Bitcoin bull run was observed. This shows that the buy sentiment is considerably strong within the Bitcoin world and also shows that some form of institutionalized investing may also be in the cards and this can clearly be seen within the accumulated cryptocurrency hoardings now becoming more and more common.
However, nothing can be sure of the Bitcoin price and it is always advisable to invest with caution.
Featured Image source: pixabay.com